My InnoGames GameJam Story
Jan 9, 2012 • Ole Michaelis
This weekend there was a big event at my employer InnoGames: The InnoGames GameJam Volume 2! It was the second Jam InnoGames organized, but the first time for me attending. So there were tons of new experience and fun for me.
The countdown started Friday at 6 P.M. GMT 1 and holds 48 hours of hardcore programming for us. At the beginning Michael, our organizer, hold a little (not well prepared) keynote and announced the topic of the jam: Space
I teamed up with two of my regular WestWars colleagues, Patrick another developer and David an awesome graphic (3D) artist. And we decided to make a 2D Action-RTS-Multiplayer-Shooting Game. Sounds awesome? Indeed it is! You'll get the link at the end of the post.
We got inspired by this video i found a few month ago in my twitter stream:
So we started working and working and working… We used Node.js, with express, jade and Socket.io in the frontend we choosed Crafty. Finally we came close to the end of the 48 hours countdown, and yeha, i'm proud that i can say that we got a result. AND its very impressiv and cool! Of cause there were a few bugs, and honestly the code quality is like shit. But it's ok we (and you) have to keep in mind that the whole game including ideas, graphics, programming and testing has to be done in just 48 hours. I only got 6 hours sleep over the whole weekend, that wasn't much but I'm ok with that. InnoGames sponsored RedBull and Pizza for all so we got awesome support!
So and this is what we got and we call it Space Kitchen: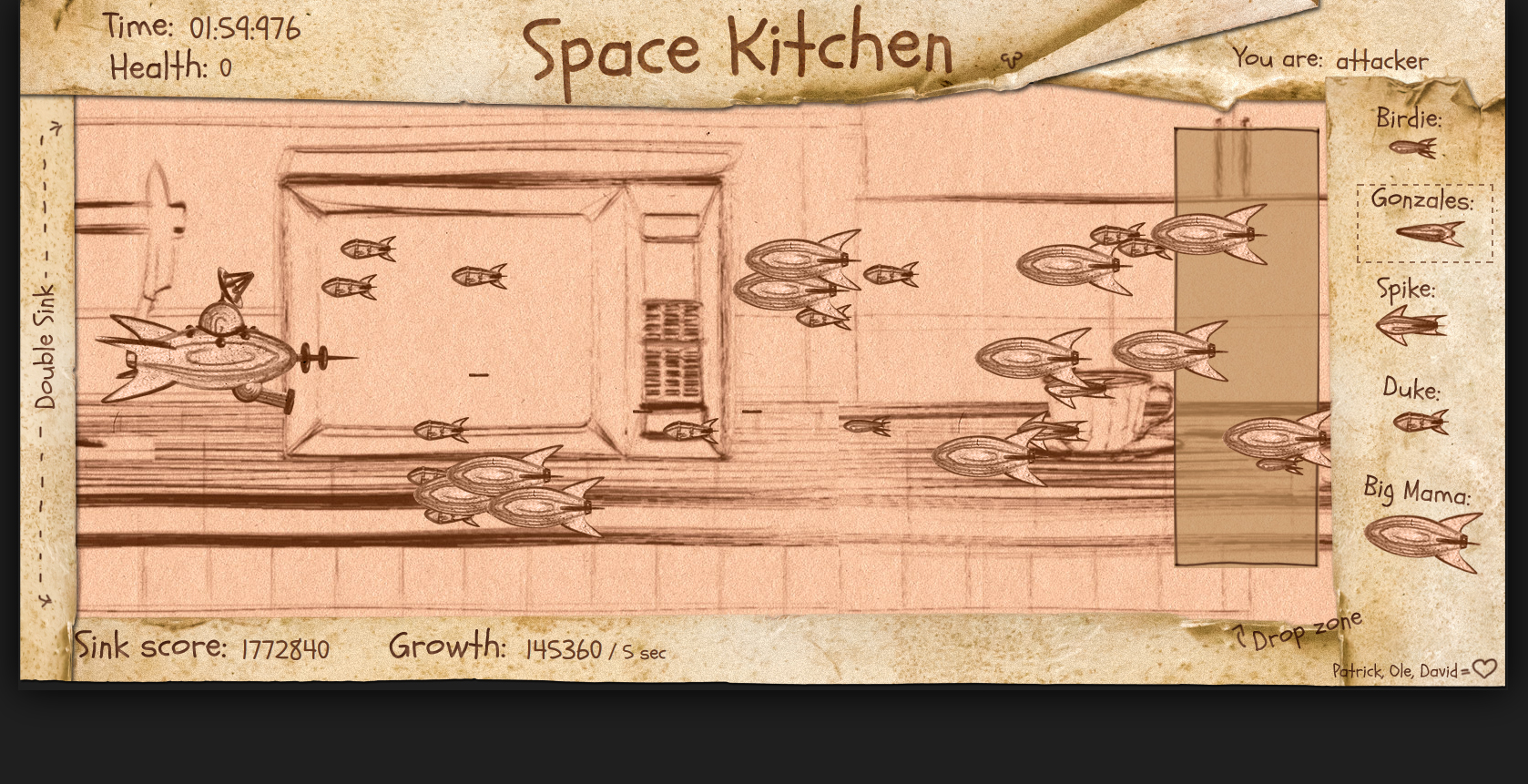 Space Kitchen
And you can test and play it here. Keep in mind that this is a multiplayer game and that it won't be much fun to play alone, or let me say you can not really play alone. So pick up a colleague and go for a round full of Action and Fun! Oh and please don't use Chrome, there was a little bug that we can not solve in time. But IE is working (loooool, but really it works) and of cause FF, Opera and Safari too. And don't forget to turn up your volume ;)
At the end of this article I'd like to say a huuuuge thanks to all attendees, organizers and of cuase my awesum employer InnoGames!
Hope to see ya' all at the next InnoGames GameJam!
If you have any game related feedback for us, please leave a comment here in my blog.
P.S. Did you found the penis? ;)
Update 11.01.2012 10:30 Uhr: InnoGames shared this post at The InnoGames Blog